Once you have decided to sell your home and are in the process of choosing a real estate agent to represent you, one of the components of your interview process will involve what your asking price should be. This is a key step in the process of selling your home, because the wrong price attracts the wrong buyers and can even negatively impact the marketing potential of your property. Right pricing encourages maximum exposure, buyer excitement, and positive offers.
As you meet with possible agents, each will probably present you with a Comparative Market Analysis (CMA) on company letterhead, and they will end the presentation with a recommended listing price.
What you may find is that a couple of experienced agents will present prices that are lower than you expected. They will most likely support their recommendations with recent real estate market sales data of comparable homes in the area that have sold for similar price points.
Then enter another agent's figures: they are much more in line with your own anticipated value, or maybe even higher. When you are convinced your house is worth more than what other agents suggested, this agent's figures make you eager to sign on the dotted line and start counting your earnings.
If you find yourself in this situation, take a step back. If something is too good to be true, it probably is, and overpricing your home is not the way you want to kick off the sales process.
The Risks of Wrong Pricing
When your home is listed with an agent, it gets marketed and promoted in a flurry of activity to many other agents in the area, and the other agents will be doing their homework for their buyers. During the first couple of weeks your home should be busy with buyers' agents coming to preview your home so they can sell it to their clients.
But this only will happen if it is priced right. If your home is overpriced, the other agents, who know the local real estate values, will realize it is overpriced and will not waste their clients' time showing it. The end result? A stalled sale:
Fewer buyers are attracted
Fewer offers, if any, are received
Marketing time is prolonged and initial momentum is lost
Property attracts lookers and makes competing listings look better by comparison
If property does go under contract above true market value, the lender's appraisal may fall short and the buyers will lose their financing
Property may eventually sell below market value as bargain hunting buyers look for "stale" listings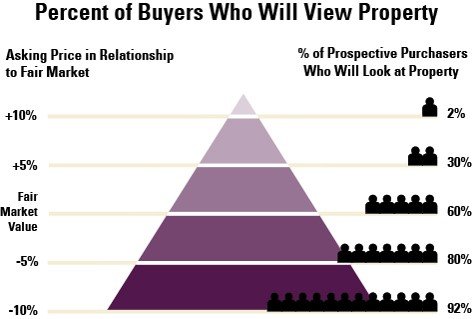 "Buying A Listing": A sales practice to avoid
Beware of agents who may start out at your price and if you need to drop the price later, says you can do so easily. This is not entirely true because you can lose buyers seeking a realistic price tag, and your home could take longer to sell. Keep in mind, even if you manage to get an inflated offer on the house, any buyer who needs to get a mortgage will have to have the home appraise for the asking price, a process required by any lending institution, or their financing will fall through.
Even a well-meaning, experienced agent can feel the emotional pressure a homeowner can put out there, especially if they have an inflated perception of their home's true value. But, unfortunately, some agents routinely use this poor sales tactic called "buying a listing". In other words, they "buy" the listing by suggesting a higher sales price than the other agents recommended.
It pays to research your home's value yourself by looking at similar homes for sale in the Multiple Listing Service, and it pays to go with an agent who will honestly tell you, with data to back it up, what you will get in today's market.
Remember the Benefits of Right Pricing:
More buyer showings in the first 3 weeks of heightened activity
Great potential for multiple offers
Marketing time is shorter and the home is a "hot" listing
Property attracts serious buyers already actively comparison shopping in the price range
Transaction dates and mortgage contingencies proceed smoothly when the lender's appraisal can validate the sales price